Introducing the Wells

Named after the Wells projectile point found in Cherokee County, Texas, The Wells is our first true flipper design. A flipper has been on our drawing board for years, but we weren't going to do it until we could do it our way. The Wells is a testament to our dedication to blending form and function seamlessly. Designed, machined and built right here in the USA, the Wells embodies versatility and durability in every detail. Elevate your everyday carry with the Wells – where aesthetics and utility converge in harmonious style.
Product details

OUR FIRST BACK FLIPPER

Fast deployment, one-handed operation and epic fidget factor. Your co-workers will hate you and your clicking.

AMERICAN MADE

Proudly designed, machined and assembled in the USA.

MAGNACUT BLADE STEEL

A USA-made super-steel that balances corrosion resistance and toughness.

STAINLESS STEEL BALL BEARINGS

It's all ball-bearings these days, but with these you know you'll be getting smooth action for a lifetime (which is a lot more than a lot of us can say).

STAINLESS STEEL FORMED WIRE POCKET CLIP

Easy in and out, again and again. It's hard to beat the minimalism and ease of use of a formed wire clip.
Technical specifications

Blade Length

2.875" / 7.3cm

Overall Length

7.25" / 18.4cm

Weight

3.3oz / 99g

Lock Type

Button Lock

Carry orientation

Right handed

Blade Steel

CPM MagnaCut

Blade Type

Sheepsfoot / Wharncliffe

Scale Material

Aerospace grade heat treated Aluminum 6061

Blade Hardness

63 HRC Magnacut

Clip Material

bent 420 stainless steel

Hardware

stainless steel

Blade Grind

High Flat Grind

Bearings

stainless steel caged ball bearings with steel washers

Designed In

Portland, OR

Made In

USA
All day, every day.
We make knives and tools for people who live adventurously - for people like us. For those who aren't content consuming other people's stories, and who don't wait around for other people to fix things. We're with you, from the pocket to the hand, and back again.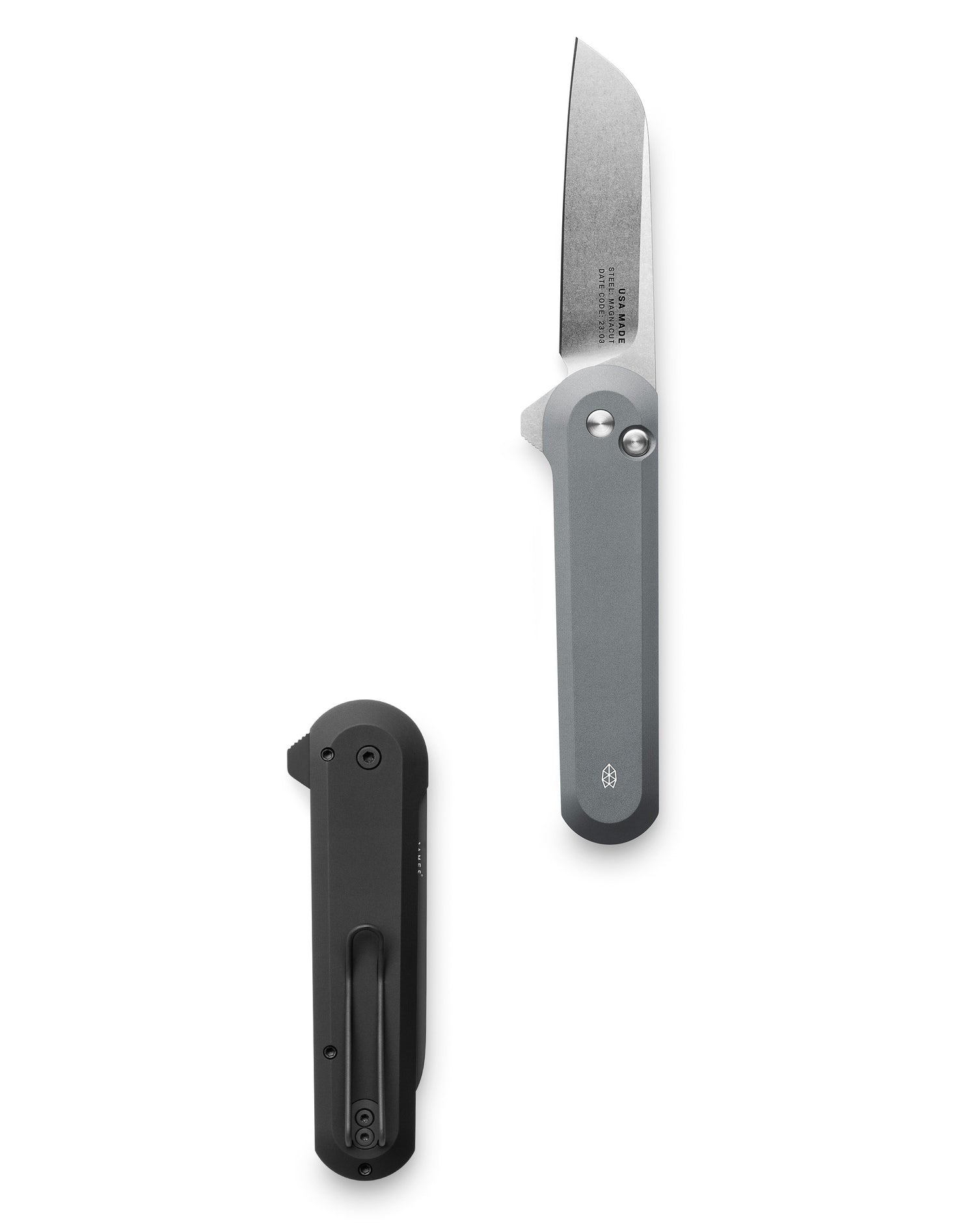 MagnaCut Blade Steel
7.25" overall length
USA Made
2.875" blade length
The Button Lock: The Most Intuitive Lock
Some locking mechanisms can be difficult to figure out, as they aren't visually intuitive. Not so with a button lock. It's straightforward to understand how a button lock functions, and the design is easy to operate with one hand. The placement of the button keeps your fingers a fair distance away from the business side of your blade. Button locks are praised for their intuitive design, ease of use and solid lock-up. It's the most straight-forward of the modern locking mechanisms.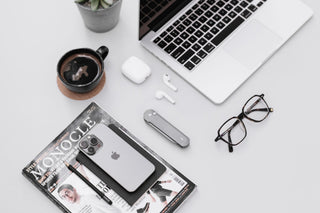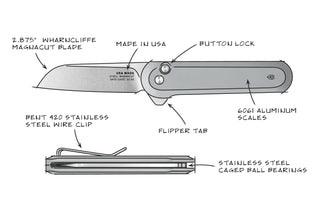 The Very Best of TJB
The Wells is 100% made in the USA, joining The Kline and The Anzick in our ever-expanding line of domestically made knives and tools. We know it's important to you and it's important to us too. The Wells features a button-lock for security and ease of use. The flipper tab design means that The Wells is easily and quickly deployed with just a flick of the finger; it's a fast and easy one-handed deployment, every time. The fidget factor with a flipper is also off the charts. You'll never be able to put this one down. The formed wire pocket clip makes for easy and secure in-pocket carry. The caged, stainless steel bearings enable a buttery smooth deployment every time. The scales are aerospace-grade 6061 aluminum.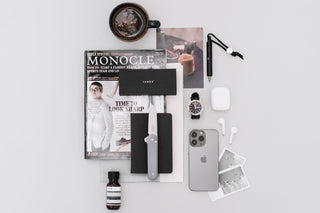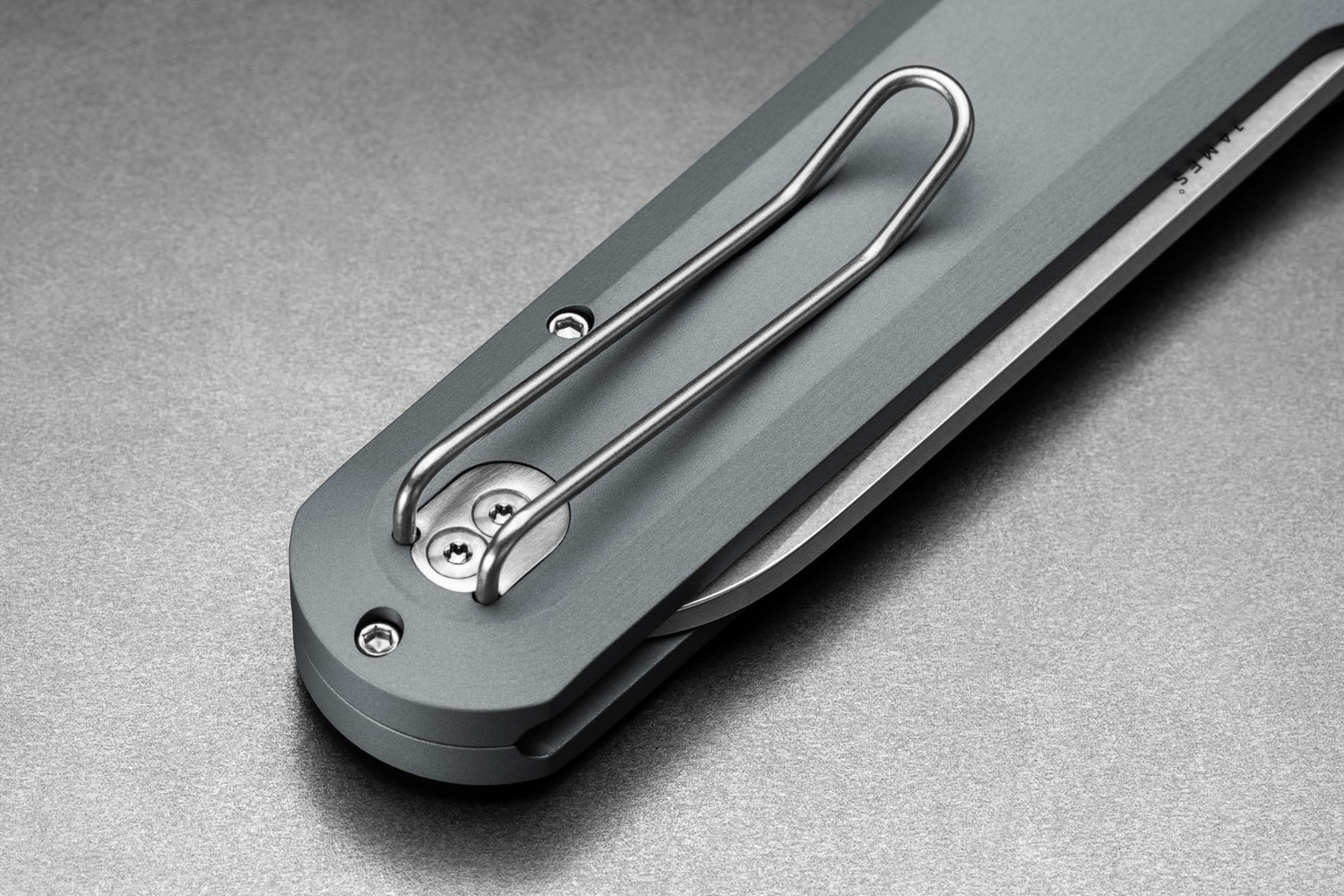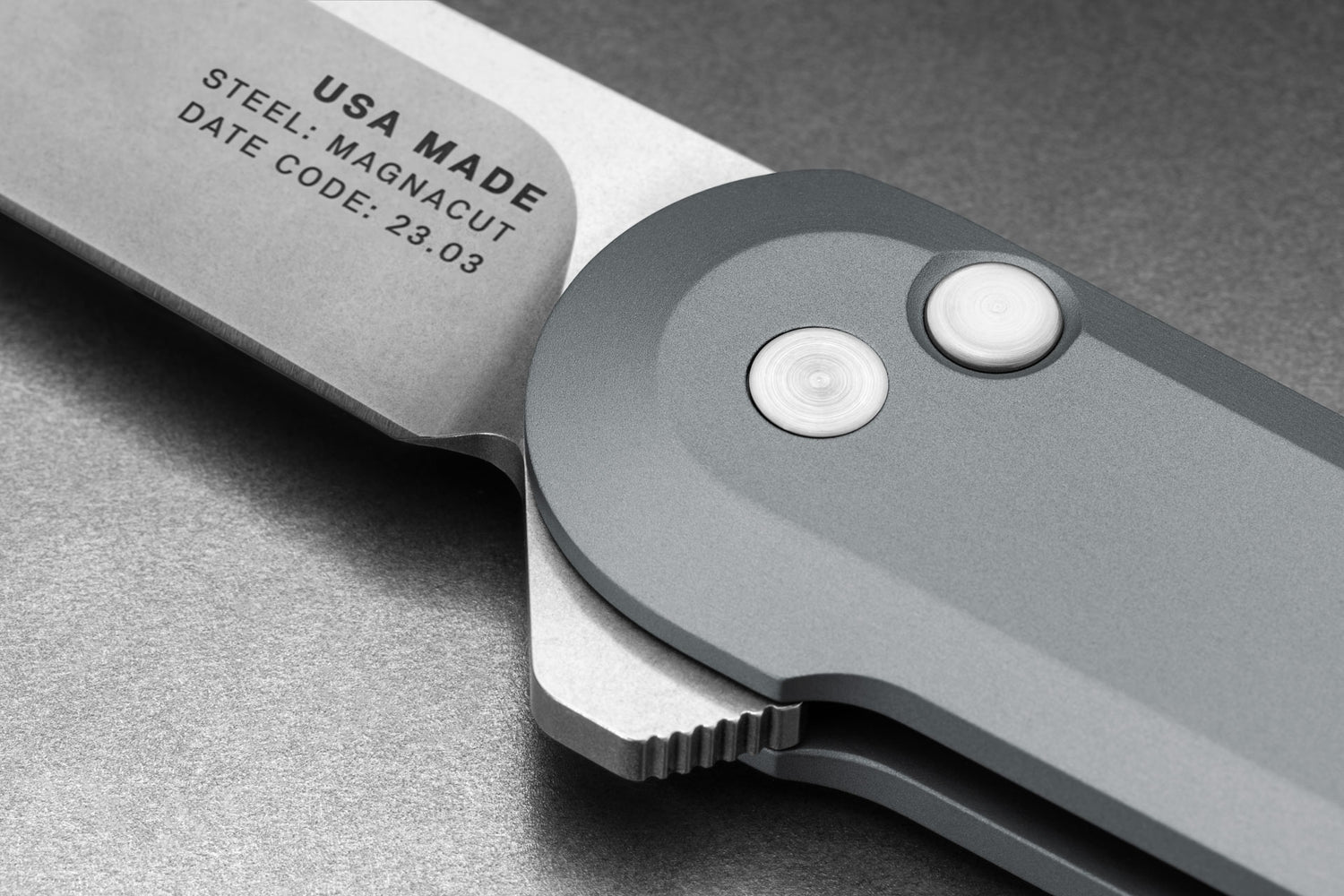 More MagnaCut
Of all of the amazing steels out there, Magnacut remains one of our very favorite and most requested.  The MagnaCut blade of The Wells combines the corrosion-resistance of a traditional stainless steel with the unparalleled toughness of traditional high carbon steels. The bottom line is that it's an amazingly well-balanced steel for your daily carry blade. Our MagnaCut is heat-treated to 63 HRC, and has been signed off by Dr. Larrin Thomas himself. 
The Wells is available in 2 colors: anodized aluminum with a stonewashed blade, or in a blacked out option with a DLC-coated blade. The quantities are limited, so get in on the Wells while you can.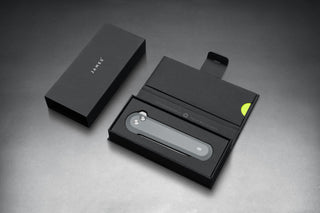 Total 5 star reviews: 7
Total 4 star reviews: 2
Total 3 star reviews: 0
Total 2 star reviews: 0
Total 1 star reviews: 0
100%
would recommend this product
More stickers

Great knife, already part of my daily carry.

ST

I had to twist my own arm to buy this knife.

Wow! Super smooth one-handed operation flipping open and even unlocking and closing. Has to be the sharpest knife I have ever bought out of the box. I never wanted to spend $425 on a knife but I have to say that I am very happy with the purchase. I carry it on the inside of my front pocket and use it several times a day. Every time I use it, I say to myself, "Wow, this thing is sharp, I love this knife!"

Beautifully balanced in the hand and to the eye.

The first time I saw this knife I knew I wanted it. So simple and unique. While unboxing I was surprised at the heft—not like it's heavy but that it just feels right. The flipper mechanism requires just the right amount of effort, so you don't feel like it's going to fly open by itself. When it does release, don't blink or you'll miss it. I must have opened the Wells a hundred times now and it never missed catching the lock mechanism, regardless of the angle at which it was opened. As a left-handed user, my thumb rests in the curve of the clip so I have a very good grip as I rest my finger on the knurled lever. To close, my index finger fits perfectly in the button cavity, the blade drops and my ring finger guides it into the handle as I feel a confident click. Super easy and smooth. The finish is deceptive—while it looks and feels smooth the finely bead-blasted surface (just guessing on the process) provides a reassuring grip. My Duval is in my pocket every weekday, my Ellis is in my photo bag, and the Wells is my new weekend companion.

A Beast

A very heavy brute. When the blade is open it does not move. Four stars aren't enough and 5 is perfection, I've never met perfection. This is a very expensive knife but quality.
Reviews Loaded
Reviews Added